don570


Joined: 10 Mar 2010
Posts: 5024
Location: Ontario

Posted: Tue 25 Feb 2014, 20:50

Post subject: Mix ascii and utf-8 in one text file
---
I have written an example to show how easy it is
to add some utf-8 text to some ascii text and produce a file.

UTF-8 allows more diverse characters so it is good for math formulas.
ascii text is good for gettext translation. So a mixture of
the two types is useful. The ascii text is part of the script whereas
the utf-8 text is a separate file stored in /root/.config/Mix_text/ .

I wrote the script so that the utf-8 text could be added to the beginning
or end of a line of ascii text.

I put the script in a pet file to make it easy to install.
Launch it from the Start menu

Start Menu > Utility > Mix text

The combined text file is shown. (see image). This file is stored in
/tmp/Mix_text/combined.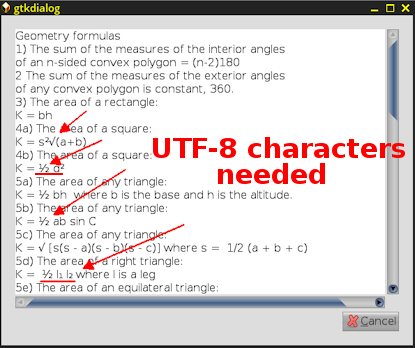 .
Description

experiment app



Download

Filename

Mix_text-1.0.pet

Filesize

1.89 KB

Downloaded

136 Time(s)