don570


Joined: 10 Mar 2010
Posts: 3078
Location: Ontario

Posted: Thu 06 Feb 2014, 15:18

Post subject: Togglebutton examples
---
script-toggle3 --->

I have tried to avoid using SVG image buttons by using the
togglebutton widget.

The toggle button emits a signal for buttons to hide or show.

If I had used an SVG image instead of togglebutton widget
then the label and color of button could have
been changed when I switched from American cities to Canadian cities.

Warning!! I've used a non-ASCII character in this example(the bullet symbol).
It's not a good practice since gettext checks for non-ASCII characters.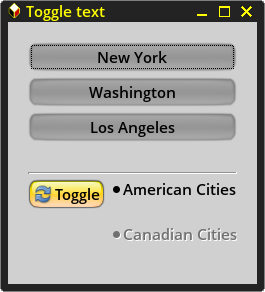 ___________________________________________________________

In script-toggle2 script I change a list with a togglebutton widget sending the signal.



___________________________________________
Description

remove fake extension --- buttons are changed by togglebutton



Download

Filename

script-toggle3.gz

Filesize

2.46 KB

Downloaded

36 Time(s)
Description

remove fake gz extension---- list is changed by togglebutton



Download

Filename

script-toggle2.gz

Filesize

1.71 KB

Downloaded

37 Time(s)

Last edited by don570 on Sat 08 Feb 2014, 16:52; edited 1 time in total

don570


Joined: 10 Mar 2010
Posts: 3078
Location: Ontario

Posted: Sat 08 Feb 2014, 16:47

Post subject:
---
I've thought about the problem and I've found that the easiest
method of toggling is with two radiobutton widgets.
One is active and contains the action directives.
Because the widget is active , the action directives will be done
when the window is first formed on screen. That is why only three
buttons will form on screen at first launch.


Code:
<radiobutton active="true">


The code is simple so I'll list it.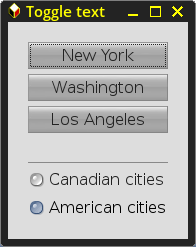 Code:

#!/bin/bash

export MAIN_DIALOG='
<window title="Toggle text" resizable="false" border-width="20">
<vbox>
<button>
<label>New York</label>
<variable>Button1</variable>
<action>xmessage "Button clicked"</action>
</button>
<button>
<label>Washington</label>
<variable>Button2</variable>
<action>xmessage "Button clicked"</action>
</button>
<button>
<label>Los Angeles</label>
<variable>Button3</variable>
<action>xmessage "Button clicked"</action>
</button>
<button>
<label>Toronto</label>
<variable>Button4</variable>
<action>xmessage "Button clicked"</action>
</button>
<button>
<label>Montreal</label>
<variable>Button5</variable>
<action>xmessage "Button clicked"</action>
</button>
<button>
<label>Vancouver</label>
<variable>Button6</variable>
<action>xmessage "Button clicked"</action>
</button>
<text><label>""</label></text>
<hseparator></hseparator>


<radiobutton>
<label>Canadian cities</label>
</radiobutton>


<radiobutton active="true">
<label>American cities</label>
<action>if true show:Button1</action>
<action>if false hide:Button1</action>
<action>if true show:Button2</action>
<action>if false hide:Button2</action>
<action>if true show:Button3</action>
<action>if false hide:Button3</action>
<action>if true hide:Button4</action>
<action>if false show:Button4</action>
<action>if true hide:Button5</action>
<action>if false show:Button5</action>
<action>if true hide:Button6</action>
<action>if false show:Button6</action>
</radiobutton>

</vbox>
</window>'

gtkdialog --program=MAIN_DIALOG