GIF animation with mtPaint



-The following tutorial describes a method to make a high quality animation if the moving object
is simple and has few colors. I recommend using
a recent version of mtpaint .
mtpaint 3.40 is bare minimum.

I have modified the example in the mtpaint handbook to
use drag'n drop since it is a quicker process.


I am starting with a high-quality gif image named background.gif.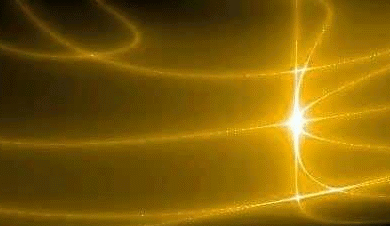 -best to have a picture with a large variety of colors to choose
but I will show how to deal with a picture with few colors
_________________________________________

Use the drag'n drop feature to create many layers simultaneously.

I would suggest taking background.gif and drag it many times
with your file manager into mtpaint document window. Each drag creates a layer.
mtPaint window must be same size as background image and use indexed colors.


For convenience add an imaginary grid to mtpaint window
(white is chosen because of darkness of picture).
View > Configure grid


Use menu to show dock:
View > Show dock
The lowest layer (Number 0) is black. Don't save it or alter it.
Now proceed to layer 1.

-choose a color that is close to pure white. In my example it is
numbered 39.(Notice that all the indexed colors are numbered)
Make a note on paper which number this is just in case you forget!

Change this color to light blue #00FFFF using color editor
- paint an object (a ball) with blue color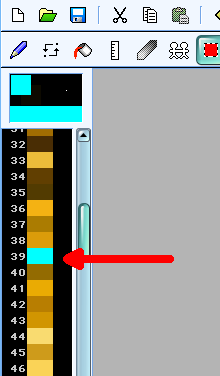 - Save as a GIF ---> 001.gif in your dedicated folder for the animation
Be careful to check that
you have saved the frame as a gif file!!!
and the numbering of frames is important.

Proceed to layer 2
All the layers above layer 2 should be made invisible by
unticking their show box. This allows the opacity slide to
function and show the layer underneath layer 2. Of course 'Show all layers'
must be ticked to see the layer underneath.
This will help you to judge the movement of the ball.

Change color 39 to yellow using color editor, and paint yellow ball.
Save layer 2 as 002.gif in your dedicated folder.

Proceed in this fashion to all the remaining top layers.
In each layer it is color 39 that is changed.

Finally when you have finished top layer , do the following check-->

Check that all layers (except layer 0) is saved in same folder and properly named
They must use gif extension.

Turn off 'Show all layers' . Opacity slide is not relevant.

Now in layers window click on each layer to check the results.
Save your animation -->


File > Export animated gif
Choose a descriptive name and a delay of 40
mtpaint will display the animation. You can also
open the animated gif file with Viewnior or your internet browser
to check the animation.

____________________________________________________

you will notice in animation-final.gif that there are small specks
of color in the sun. These can be eliminated with the paint brush
and then save the animation again.
I have done this and the result is animation-final-2.gif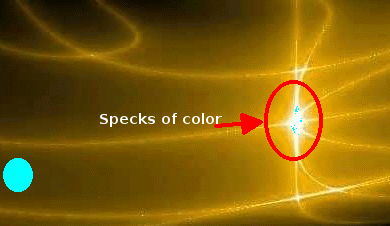 ____________________________________________


For a more practical example:

Drag the background.gif into a mtpaint window 5 times.
This creates Layer0, Layer1, Layer2, Layer3, Layer4, Layer5
(Layer0 won't be saved in the final animation. It is black)

Open another instance of mtpaint. It must use color-indexing. Change
the palette to the same 255 color palette of background.gif.


Method:
-Save the palette of background.gif as base.gpl
Palette > Save as

Then you can open the palette in your second mtpaint
Palette > Load

You can modify a small number of colors. For instance
I have modified color 39 with the color editor to be red #FF0000.


Paint something on the black background
and then do a smart lasso. Copy it to the clipboard and then save it
on disk to clipboard 1.



Now do an animation as before except that you will now use
the disk clipboard for transferring the object that is moving.

You must be consistent when pasting to change the color 39 to red each time
before loading the clipboard.

Warning!!! You cannot load a RGB clipboard into
a color-indexed document. Nothing will show!!

The final result is letters-final.gif




_______________________________________________________

See the mtpaint manual for more info about drag 'n drop.

Section 8.1.1 Drag 'n' Drop

If you have several images that you want to open as layers,
it is possible to do this using a file manager
and its drag 'n' drop facility.
Simply select all of the image files you want using
your favourite file manager (e.g. Rox, Konqueror, Nautilus),
and then drag them over the main mtPaint window and release
the mouse button.
mtPaint will then load each of the files as a new layer.