Mike Walsh



Joined: 28 Jun 2014
Posts: 6385
Location: King's Lynn, UK.

Posted: Wed 15 Aug 2018, 11:00

Post subject: ScreenCloud - v.1.4.0 AppImage
Subject description: Takes a screenshot, saves to an image-hosting a/c, and saves your image-link to the clipboard...
---
Afternoon, all.

I found this on an AppImage site listing Mikeslr posted from labbe5:-

https://appimage.github.io/apps/



ScreenCloud v.1.4.0



It's another screen-capture app, but one with a difference. This one is specifically designed to save your screenshot to the image-hosting account of your choice, and to save the link to your image to the clipboard, ready to use in a forum post straight away. If you wish, it will save the file locally, instead.

Again, as with so many of these AppImages, 64-bit

only

, I'm afraid.

I know HotShots is supposed to have this functionality built-in, but I have

never

been able to get it to work. This one is as easy as pie to set-up.....and it

does

work (mostly). More on that in a bit.....

------------------------------------------------------------------------

I've provided packages for this, with a MenuEntry built-in for ease of access. You can set it to auto-start at boot, if you wish, or you can drag the /usr/bin/ScreenCloud64 entry to /root/Startup, and sym-link it if you want to do it that way.

Pet and SFS packages can be found here:-

https://drive.google.com/drive/folders/1TuAXRLCwikldBYgTqZnrniBhUSq2wtLf?usp=sharing

Help yourselves to the one you want.

------------------------------------------------------------------------

When you open ScreenCloud initially, on the first run you get a series of set-up windows, starting like this:-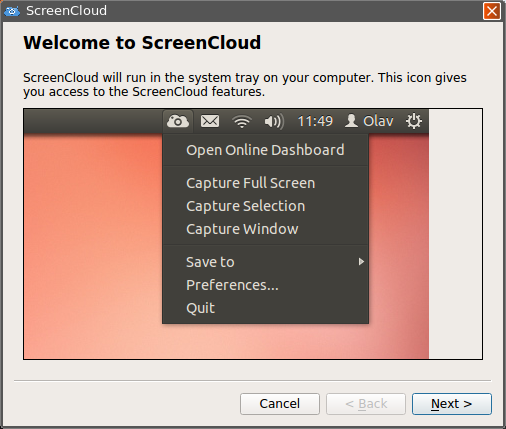 Naturally, it shows it on an Ubuntu desktop; what else?
A couple of windows further in, you get a list of hosting providers to choose from:-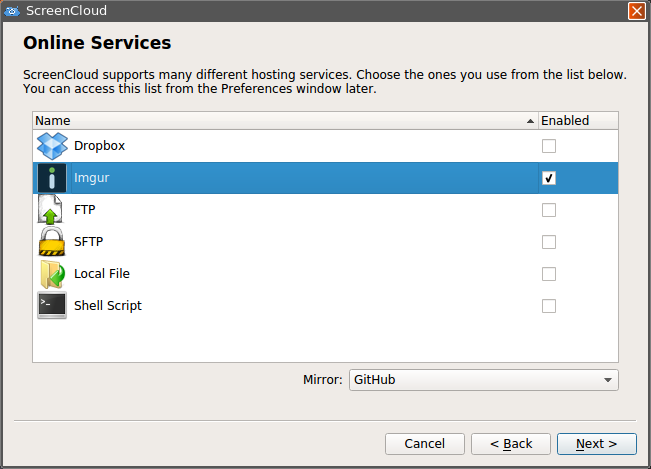 Select your provider from the list given. (I haven't yet figured out what you do if your provider isn't on the list, so don't ask..! There doesn't appear to be a way of manually adding one, but.....I could be wrong. Perhaps the 'Shell-script' option..? You can put what you like into a script, so that

should

work, I would think.)

Once you've gone through the set-up windows, the ScreenCloud icon should appear in the notification area:-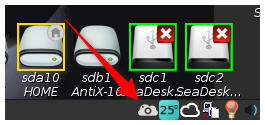 Click on it, and select 'Preferences'. Choose the 'Online Services' tab; your hosting service should be showing, so click on it, and then click on 'Settings', below. This window will then appear:-






Select your a/c, screenshot name, and preferred clipboard link. Then, click on the 'Log-in on xxxxx' button. A wee window will come up like this:-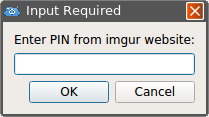 .....and your default browser should open at your image hosting site. Now, I can't say how this will work for all image hosting providers, but for Imgur a page will open with some bumf about an application wanting to share your account, and a green button marked 'Allow'. Clicking on this will bring up a different window with a code on it; copy this, then paste it into the field marked 'Enter PIN from website', followed by 'OK'.

This authorises ScreenCloud to use the website's API to connect, upload & retrieve links. Now, close the windows by 'OK-ing' them.

All things being equal, everything is now set-up!

----------------------------------------------------------------------

One point of interest; you'll recall that 'shortcut' key combos are provided. Putting it bluntly, these don't work. If, however, you use the tray icon's context menu, and select the desired action from there, it will work

every time.

Horses for courses; sod's law, I guess. Can't have

everything

, now.....can we?


When you want to stick your image in a post, just right-click, paste, and use the [img] tags.

Have fun!

(Yes, I know it's a huge package for what it is; that's why there's an SFS for it, so you can load/unload as & when you want to use it. It's Electron-based, as so many of these AppImages are (and 64-bit only, too, as I said.) But I'm afraid that's the way things are steadily going. A 64-bit dual-core machine with

only

4 GB of RAM is considered inadequate nowadays.....and my old Dell lappie, with a P4 & 1.5 GB of RAM is considered a dinosaur. Go figure.

All that tells me is that developers today are getting lazy. Why use 10 lines of tightly-written code, when 100 lines of sloppy shit that takes no effort to produce will do the same job??

But this thing does seem to work nicely, even so; the developer has put quite a bit of thought into it. I just wish the shortcut key-combos worked, that's all; when you try to use 'em, you get a 'Failure' window come up, crammed-full of code, so.....methinks a wee bit more development is needed, some where along the line.)

For all that, it still works nicely. See what you think.


Mike.

_________________
MY 'PUPPY' PACKAGES