muggins

Joined: 20 Jan 2006
Posts: 6759
Location: hobart

Posted: Thu 14 Aug 2008, 08:36

Post subject: KardsGT: QT4-based AI card games for pup4
---
http://kardsgt.nongnu.org/
Quote:

The following are the games:

* Crazy Eights
* Cribbage
* Euchre
* Hearts
* Old Maid
* Spades
* War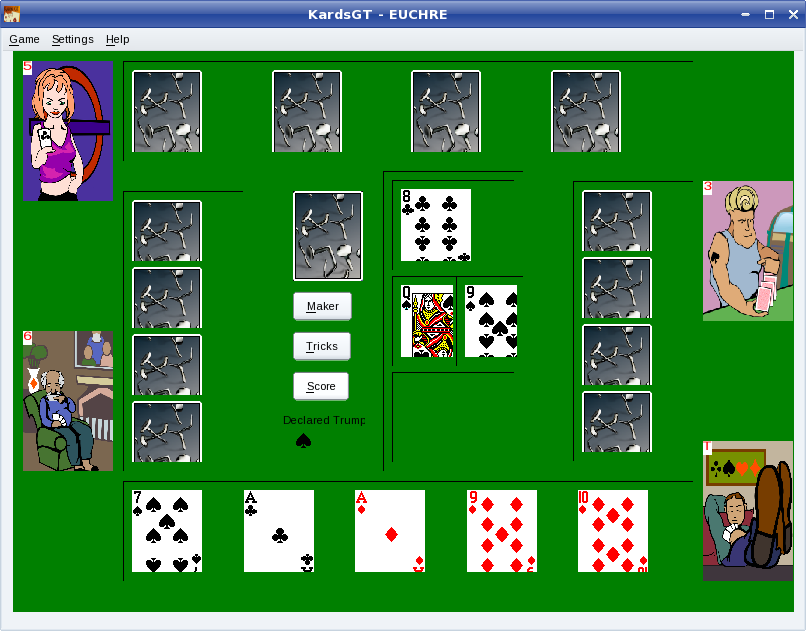 If you want to play Euchre with 3 AI players, this game could be just the

trick

!

I've uploaded a .pet here kardsgt-0.7.0.pet (1956kbytes)

It requires QT4 libraries

It also needs libQtAssistantClient.so.4. Just extract the attached .tar.gz file to / for this library.

Run via

Menu->Fun->Kardsgt
Description





Download

Filename

libQtAssistantClient.so.4.tar.gz

Filesize

8.45 KB

Downloaded

537 Time(s)
Colonel Panic


Joined: 16 Sep 2006
Posts: 2177

Posted: Tue 10 Mar 2009, 08:38

Post subject:
---
Thanks for the packages.

I've tried this and sadly the graphics are poor. The screen updates very slowly and moving a card to the requested place is a very "hit and miss" affair; sometimes it happens, sometimes it doesn't. Sorry to disappoint for all the hard work you've put in but I think Tkhearts is an altogether better implementation.